Real estate in Sunny Beach – an investment in your future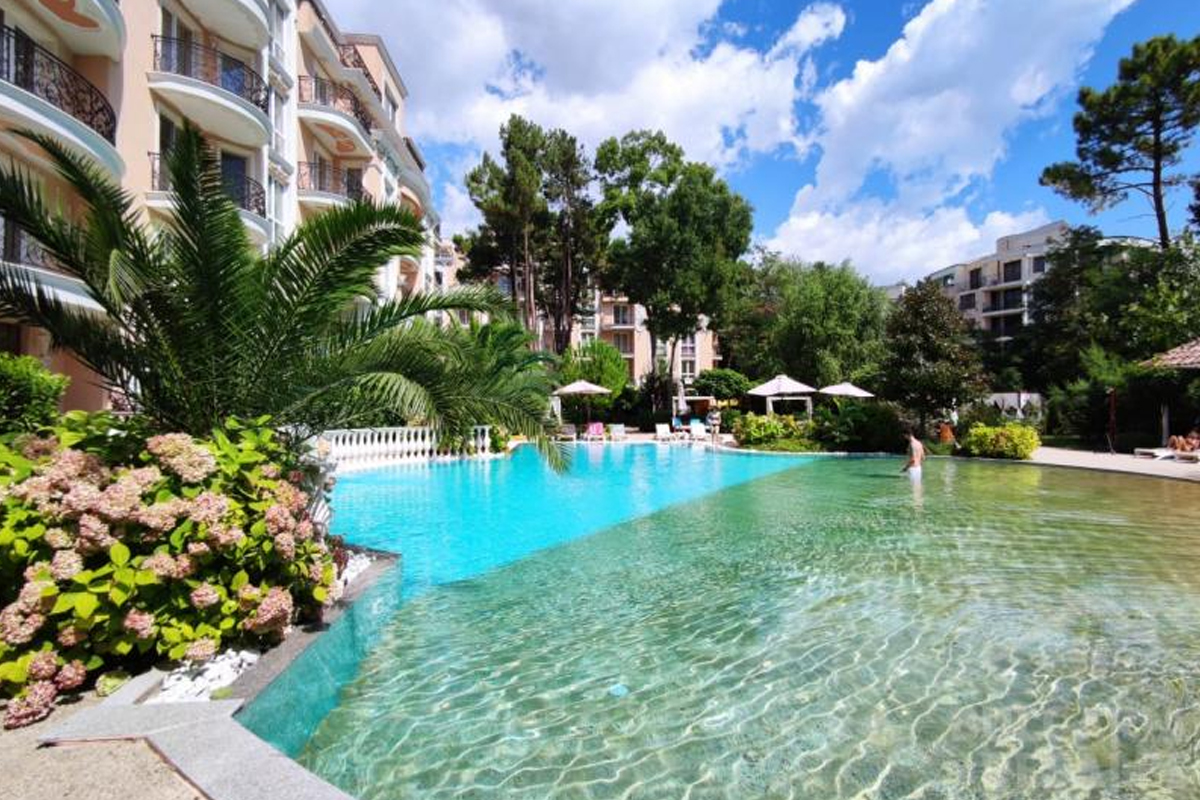 Holidays in Bulgaria are very popular. The country is unique not only for its traditions, cuisine and wines, but also sea and ski resorts. Many beach lovers choose Sunny Beach. 
What is Sunny Beach Resort
It belongs to the most popular and largest resort, which is located on the Black Sea coast of the country. For this reason Sunny Beach properties are very much in demand. It is purchased both for own residence and for renting for profit. It can be:
house;
apartment;
cottage
Sunny Beach resort with a lot of real estate offers is located in Nessebar (the southern part of the ancient peninsula of Nessebar). The resort town of Sveti Vlas is located to the north.
Sunny Beach impresses with its size, and can accommodate up to 300 thousand tourists at a time. Sunny Beach real estate is represented in different price categories, which allows you to buy both affordable for many budget housing, and elite cottage in a picturesque area, apartments with sea views.
Realize your dream and buy real estate from the developers or secondary housing will help real estate agency "Bulgarian Resales" or "BG RST". The company offers its services in the Bulgarian real estate market since 2007.
We provide a large database of properties on the coast, which is regularly updated, innovative methods (proprietary) selection of housing. This allows you to reduce the time to find a house, apartment, condo, taking into account your personal needs and to buy housing on the coast within 2 to 5 days.
Buying a Sunny Beach property sale 100% reliable, thanks to the step-by-step support of a lawyer at each stage of the transaction and our many years of experience. We provide each client with photo and video shooting of the object, airport pick up and transfer.
Our agency applies proven advertising strategies, using knowledge of the intricacies of the market. This allows us to find buyers quickly and easily, increase the efficiency of real estate sales, save sellers advertising costs and waiting time.
The advantages of the resort of Sunny Beach
Real estate Sunny Beach is popular due to the many advantages of this resort. The first thing customers who buy a home in this picturesque region should know is that the resort has been awarded the international "Blue Flag" award.
It represents a quality mark, issued by the European Commission, which is responsible for the environment. This is a unique award, because the certification for its receipt is carried out annually. But to get the "Blue Flag" can only environmental resort regions with impeccable clean beaches (sand) and water in the sea.
Because of this award property for sale Sunny Beach has become in demand.
In addition, enjoying a beach holiday in the warm sea, having real estate in Sunny Beach, it is possible for 5-6 months a year. The season starts at the end of May and lasts until the end of September (sometimes until early October).
Weather
Due to the direct influence of the Black Sea, the weather conditions in Sunny Beach are milder than in other parts of Bulgaria. In summer the weather is comfortable, during the day the temperature is usually +28 ° C and the temperature of the sea water ranges from +21 ° to +26 ° C. This is the time of active beach holidays.
The afternoon enjoys a cool breeze, bringing relief from the heat. The air temperature drops to +17 – +18 degrees Celsius.
Beaches
If you look at the map, the beach line is 10 km long along the Black Sea and up to 120 m wide (in the central part of the resort) of pure golden sand. Along the entire length of the area is very well-kept, clean, has a wide promenade separating holidaymakers from the hotels. All beaches are free, with toilets.
The bottom along the whole coastline beaches flat, sandy. Gentle entry to the sea and smoothly increasing depth provides ease of bathing, especially for children. In addition to the central beach there are other places to visit.
For lovers of solitude beach "Irakli". In addition to very clean water, it strikes with soft sand and unspoiled nature around. Its length is 3.5 km, width – 40 m.
An ideal place for fans of surfing is considered "Cocoa Beach". The length of the sandy shore is 8 km, width – 50 m.
For young tourists on the beaches are equipped with special children's areas. These are cozy corners, where kids are waiting for attractions, playgrounds and pools. There are also small special zones for kids, where "paddlers" with warm water are separated by mesh booms. Animators keep an eye on the children while they are playing.
Wellness
Sunny Beach is famous for its balneological resorts, which in combination with phytotherapy and climatotherapy produces stunning results. It is recommended to visit this resort for people who have problems with:
musculoskeletal system;
respiratory system;
cardiovascular system
Also, Sunny Beach is an ideal place to treat dermatological diseases, depression, and stress.
Advantages
Buying a property in Sunny Beach, Bulgaria provides an amazing vacation thanks to:
A huge selection of housing options for people of different financial means.
Hospitality, friendliness of the nation.
Numerous entertainment options for entertainment lovers (discos, nightclubs, lunaparks).
Strict daily cleaning of beaches, due to which their cleanliness is ideal.
Democratic prices for food, huge portions in cafes and restaurants.
Shallow water near the shore, which is relevant for families with small children.
After the purchase of an apartment or other housing, we provide assistance in furnishing, organizing payment of utility bills, taxes. Our company provides a range of services, details of which can be found on the website of the agency: https://bulgarianresales.com/en.